TUNISIA 20 Dinar Banknote World Paper Money UNC Currency Pick p77 1980 Bill Note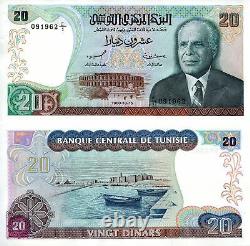 (Picture shows front and back of the note, and is for illustration purposes ONLY - Serial # may differ - see description for actual details of the note you are purchasing). Habib Bourguiba; Amphitheater in background; Harbour of Sousse; rowing boats. For a few regular world notes and other interesting items. For fun/private issue only notes.
Therefor this is reason for second store and my website.