ARGENTINA P-S1784r 10 PESOS BOLIVIANOS 1869 HORSE HEADS WORLD CURRENCY UNC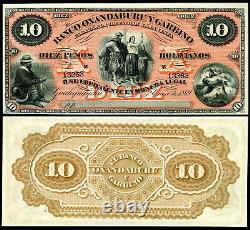 Since 1981, a dealer in conservatively-graded financial paper collectibles offering fair pricing and fast, friendly service. Souvenir Cards - Fantasy Art Bills - Novelty Bills - Numismatic Literature - Antique Newspapers. The sample note below is for illustration purposes only. The note you receive may have a different serial number but will otherwise be identical.
Beautiful remainder note by the American Bank Note Co. Scan is of actual note for sale. Black w/pink/red underprint; brown back. Seated man at left, man, woman, and horse at center, and three horse heads at right on front; ornate guilloches and counters on back. 7 1/4" x 3 1/4".
The note you receive will be the one pictured above. Nice item for your collection!
Please check out the other great deals in our misterbanknote store! Sent outside the United States and.
Overseas registered items can take several weeks to be delivered. ADDITIONAL IMPORTANT INFORMATION FOR ALL BUYERS.
Bear in mind that once the package has been mailed, it is out of our hands. Overseas packages, particularly registered packages, can be very slow in reaching their destination, so please be patient. We have been dealing in world notes since 1981. And have always run our business by offering. Conservatively graded material, fair pricing, and fast, friendly service. We are a member of the IBNS, SPMC, and FUN. GRADING STANDARDS FOR BANKNOTES AND SIMILAR PAPER ITEMS. LOW GRADE or HEAVILY CIRCULATED. Generally POOR to VERY GOOD (see below specific grades). Generally VERY GOOD to VERY FINE (see below specific grades). Generally LOW GRADE to HIGH GRADE circulated (see below specific grades). HIGH GRADE or LIGHTLY CIRCULATED. Generally VERY FINE to ALMOST UNCIRCULATED (see below specific grades). Generally ALMOST UNCIRCULATED to full UNCIRCULATED (see below specific grades). A virtual'dog,' generally a raggy, dirty, torn, and sometimes taped-up poor-excuse of a banknote that has seen better days and is generally collectible only as a filler or curiosity unless it is extremely rare. This is barely one step up, maybe not quite so raggy or dirty but perhaps missing a piece or more of the note along with other defects. This grade still exhibits extreme limpness generally. Like the grade'GOOD' for a coin, GOOD really isn't so good although it is possible to have a semi-attractive note that still grades only GOOD due to the fact that it may have tears and small missing pieces as well as heavy creasing.
Most GOOD notes have seen a lot of circulation and will show evidence of this such as many heavy folds, stains, edge tears perhaps extending into the design, pinholes, a center hole from excessive folding, etc. This grade will have fewer or less severe defects than the grade of GOOD and a number of VG notes are in fact quite attractive, especially instances where a note has been folded and refolded numerous times on the same creases, wearing a small hole through center and maybe causing a tear to appear in the design. At this point I want to introduce the notion of split grades, that is, an instance where the note is clearly better than GOOD but not quite VG. In this case, we might call the grade G-VG or G+ or even aVG (about very good). Experience is the best teacher for this; after you've handled dozens of well-used notes, you may feel more comfortable about split grading.
Maybe you'll never feel comfortable because you might not even like the idea. We use split grades on occasion and believe most dealers and collectors do. This grade exhibits still considerable circulation with a number of creases, folds, wrinkles, minor border tears (which cannot enter the design portion of the note), and maybe a few pin or staple holes.
At this point, a note is appearing somewhat attractive at least. Usually, this is handled by assigning that grade to the note but following it with a description of the defect. For example, you might have a note that is at least a FINE except for that somewhat obvious stain in which case you would describe it as FINE but stained or FINE but moderately stained or FINE but heavy corner stain, etc. Whatever the case might be. Naturally the value of a note like this would normally be lower than a defect-free note of the same grade. Generally the higher grade a note is, the more'picky' you should be about describing a defect that is not a normal characteristic of that grade. For example a VERY FINE note with a tiny tear or two might be listed as VF but border tear or could just be downgraded (or net graded) to F-VF or "net F-VF, " though the tear should still be described. Moving along, we start getting into the truly bright and more attractive notes in the VF grade and up. General characteristics of a VF note include: not more than a few vertical/and horizontal folds, a crisp paper, edges and corners can show slight wear but no tears are found in the border areas or anywhere else for that matter on the typical VF note.
A slight amount of soil or smudging can be present but this should really be minimal in my opinion. According to the grading standards of the International Bank Note Society, or IBNS, an EF note may exhibit'a maximum of three light folds or one strong crease. An EF note is bright and without signs of soil. To the casual observer, it should appear just about new. There will be only very minute wear on the corners or edges.
An AU note might have a slight bend or wrinkle from being counted. In any case, this remains a very bright, new-looking note. An AU-UNC designation is often applied to notes with an extremely inconspicuous counting wrinkle, or a note which might have a tiny corner nick, rippled surface of the paper (due to humidity or some other environmental condition), or a note having a so-called dimple at the top of the security strip.
New, as issued, with no defects with one possible exception. It is possible to have an UNC note that has staple holes, this due to the fact that some countries, including India and Pakistan, normally staple quantities of notes together prior to issue.
In this case, a description of'UNC - usual staple holes' is the rule. Otherwise, an uncirculated note is just that. More so in regards to U.
Occasionally used in describing UNC world notes are the adjectives'choice' and'gem. I could see a particularly well-centered, attractive note perhaps earning one of these designations, however, I'm not convinced we need both terms. This mainly due to the concern that people would next move toward a silly multi-point UNC grading system like that of coins, particularly U. In fact this has already happened.
Some very rare (and not-so-very-rare) U. And world notes are being "slabbed" (put in special sealed holders) and commercially graded by numismatic grading companies using the 70-point scale. Just my personal opinion, but it seems like a convenient way to squeeze a lot more dollars for a superb gem UNC MS-66 note.
" To newcomers to the numismatic community, "MS refers to mint state i. Uncirculated and the "66" part indicates the relative "grade of uncirculation" with 60 being the lowest and 70 the ultimate or theoretically "perfect" note. About Uncirculated would range from 50 to 59, etc. This system has been in use for a number of years now in the coin business.
The worst part is, the difference in a coin's value from a single key grading range (say MS-65 to MS-66) can be thousands of dollars for a "rare" item. This great difference in perceived value by some is why the whole grading system is controversial by nature because grading, is, in the final analysis, subjective i. "Beauty is in the eye of the beholder".
Thus, there is a lot of room for abuse. Also I have not been impressed with the grading of some of the so-called professional grading companies. I believe a note will stand on its own; if it's hard to find, attractive, and actively sought by collectors, it's going to bring a better price. Many world notes are also common, but so attractive that they are always eagerly snapped up by enthusiastic collectors.
There are a number of older notes from hard-to-find countries that list for a low price in. But sell for multiples of the catalog price due to the fact they are so difficult to locate.
Most world paper collectors and dealers with experience will tell you the catalog is a starting point guide but there are many values listed in there that don't "jive" with the real world - they are either too high or too low in many cases. Another item to perhaps bear in mind, the grading system for U. Notes is similar in many ways to that of world notes, but it has been my experience that the world system is generally more conservative, particularly for the upper grades.
I have seen ads like UNC - 1 fold. Sounds like an EF or AU note to me (EF if creased, AU if just a light fold or "wallet bend"). An additional point - notes, like coins, have sometimes been cleaned or had their appearance improved in some way. This is not always apparent. Some collectors have no problem with this, others feel, as with coins, that the items shouldn't be altered in any way.
, trimming it, erasing graffiti, pressing the note, mending tears, etc. A word of advice on mending tears, if you are inclined to mend tears, please don't use cellophane tape. Sooner or later it makes a mess of whatever its been taped to as it turns yellow and brittle. If you feel you need to tape a tear, use the permanent translucent tape that's now widely available. Hopefully this clarifies grading a little if you're a beginner or at least serves to demonstrate my interpretation of it and what kind of grading criteria you should expect and demand from my company.
(These grading standards taken from my CurrencyBanknotes web site). The item "ARGENTINA P-S1784r 10 PESOS BOLIVIANOS 1869 HORSE HEADS WORLD CURRENCY UNC" is in sale since Wednesday, December 16, 2020. This item is in the category "Coins & Paper Money\Paper Money\ World\South America". The seller is "misterbanknote" and is located in Englewood, Florida. This item can be shipped to United States.
Country: Argentina
Type: Banknotes
Year: 1869
Circulated/Uncirculated: Uncirculated