2008 100 TRILLION DOLLARS ZIMBABWE BANKNOTE AA P-91 GEM Unc Note Currency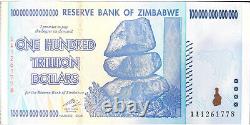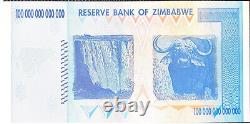 This 2008 Zimbabwe Banknote is a rare and valuable specimen that any collector would be proud to own. The note features intricate designs and is a must-have for any banknote collector.
Its certification is uncertified and it was manufactured in Zimbabwe in 2008. This banknote is a great addition to any collection and would make for an impressive display. Its value and historical significance make it a one-of-a-kind item that is sure to impress. Don't miss out on the opportunity to own a piece of history with this Zimbabwe 100 Trillion Dollar Banknote.