BRAZIL 200 Cruzeiros Banknote World Paper Money Currency p229 Bundle (100 notes)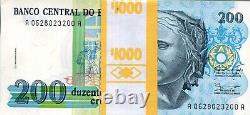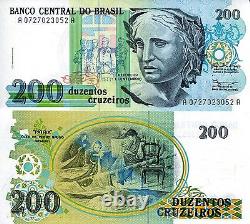 (Picture shows front and back of one of the notes, and is for illustration purposes ONLY - Serial # may differ - see description for actual details of the note you are purchasing). This sale is for a BUNDLE of this note (A bundle is 100 notes) Message me if you have questions about this. Price for Bundle (100 Notes). Bust Republica I Centenario; background - 4 men; Painting of Patria (Sewing Flag). 5 1/2" x 2 1/2". As always, bringing you, on this site a large variety of genuine banknotes from around the world. Notes are now on this site.
We will continue to list other miscellaneous items too.