Slovakia 500 Koruna P-31 2000 Millennium St. Michael Euro Unc Currency Banknote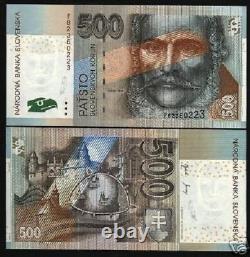 WE SELL GUARANTEED GENUINE BANKNOTES AND COINS ONLY. SLOVAKIA 500 Koruna P31 2000 issue Pre-Euro UNC scarce date banknote issued in very limited quantity MILLENNIUM year, bearing the picture of Ludovit Stur and Bratislava Castle, St. Michael's church on back. (Slovakia joined European Union on May 1,2004). Catalog does not reflect the actual market value of these scarce Pre-Euro notes.
This note will APPRECIATE in VALUE ONCE THESE ARE ALL GONE. Courier service available on request at an additional cost.